When it comes to decorating a bedroom, many people focus on choosing the right bedding, furniture, and lighting. However, there's one element that can really make a statement and elevate the overall design: artwork, and where better to create a focal point with art than over the bed! I know I am biased, but I think ceramic art has a timeless quality that can add a touch of sophistication and elegance to any space. Its textures, shapes, and colours can create visual interest that draws the eye and it can bring a sense of warmth and depth too.
So, what should we consider when choosing the perfect artwork for over a bed? Here are a few ideas:
1. Consider the size and scale
The size of your artwork is important. You want to choose something that's proportional to the size of your bed and the wall space above it. A piece that's too small will look lost, while something too large can overwhelm the space. Every space is different, but usually, I opt for something. a few inches less wide than the bed on each side. Our sculptural pieces range in size and we are more than happy to create custom sized pieces to fit your space. Whether you want to go for a bold, luxurious statement with our ceramic Grace flowers or have a more subtle, minimalist look, we are happy to advise on what pieces, size and quantity might best fit.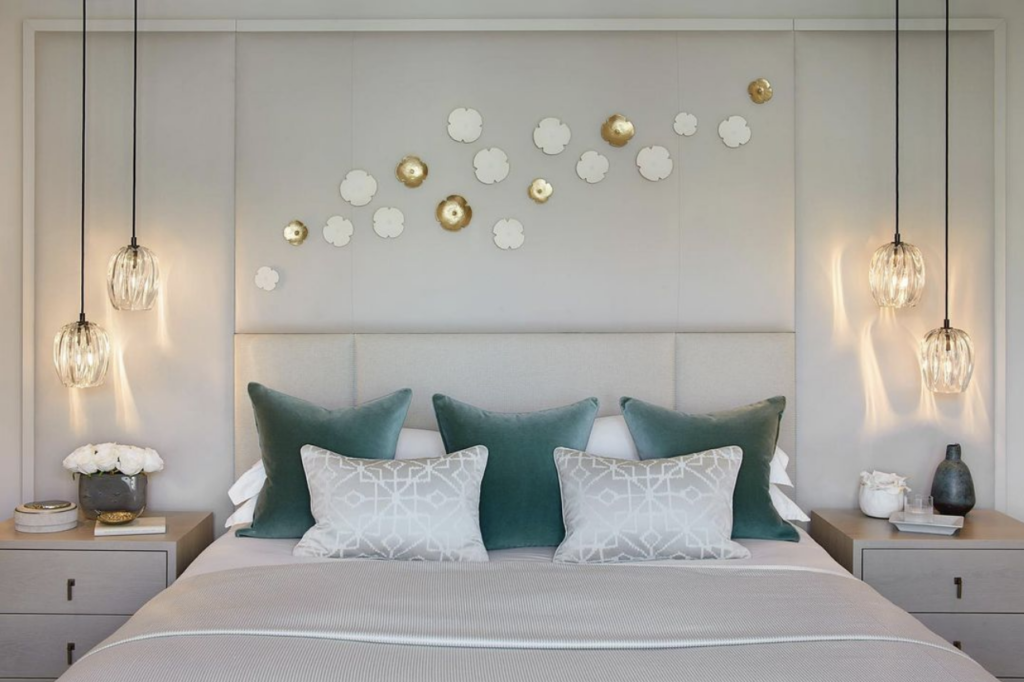 Image credit: Alexia Osborne Interiors
We love what interior designer Alexia Osborne has done with my porcelain wall sculpture Grace flowers in the image above! Using sculptural pieces that pick out an accent colour within the room can add another layer of luxuriousness. Having a mix of both gold and natural white finished porcelain flowers is cohesive with the rest of the bedroom but also creates a statement focal point over the bed. The arrangement rises up on the right hand side there, and this creates a dreamy, floaty feel.
2. Consider the shape of the space you want to fill
The wall over a bed isn't always straightforward to fill! The space left over a headboard might be an unusual shape, or there might be panelling or interesting ceiling shapes to factor in. My modular 3D porcelain wall art can be a great option, because it's super versatile and can be arranged in many ways to suit that space. Often, this area requires a long horizontal shaped artwork, and here we can really create a group that's perfect for your unique space. "Landscape" format, where a piece of art is wider than it is tall, is perfect, and really simple to achieve with modular art. It might be as simple as arranging some pieces in a row, like these:
2. Choose a piece that speaks to you
When selecting a piece of ceramic artwork to hang above your bed, it's important to choose something that resonates with you. Make sure it's something you love and that complements the rest of your decor. Remember, you'll be waking up and going to bed with this piece every day, so it should bring you joy, but restfulness might be on your wish-list too. 
Image credit: Oliver Mark Interiors
We love how Oliver Mark Interiors incorporated these textured ceramic birds into the bedroom interior pictured here. He went beyond the usual width and opted for a creative large scale installation. He states "I do find most people prefer to have a feeling of restfulness in their bedroom, but this doesn't mean it has to look dull and one-dimensional. While the furniture in this bedroom is clean and modern, the personality is injected through textured fabrics, wallpaper and the ceramic wall art". We couldn't agree more!
Play with colour and texture
Wall art comes in a variety of colours and textures that can be used to create visual interest in your bedroom. If you have a neutral colour palette, you could consider adding a pop of colour with a bright or metallic ceramic piece. Alternatively, if you have a lot of patterns and textures in your bedding and decor, opt for a more subdued ceramic piece to balance the overall look. Our butterflies are available in smooth, lace or botanical texture or you could have a selection if you would prefer to mix things up!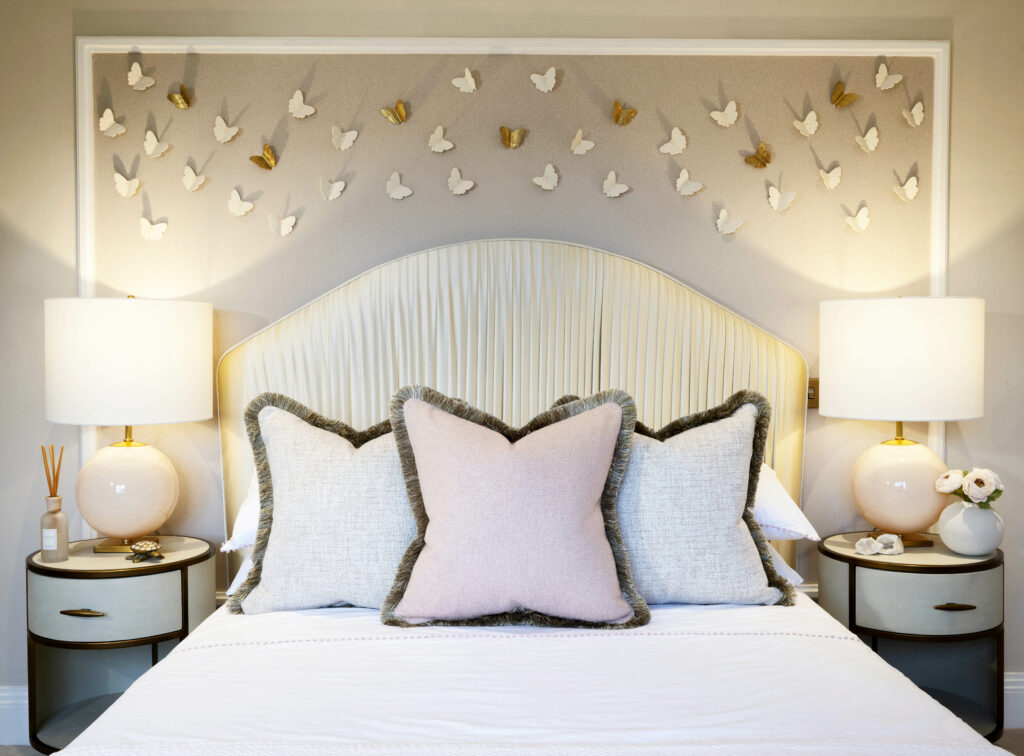 Image credit: @haleofahouse & Rachael Lauren Interiors
Ceramic artwork is suitable for any bedroom, whether that be in private homes or hotels. We love what @HaleofaHouse has done with our butterflies in a bedroom at her home above. This sophisticated space has a sumptuous look with a whimsical feel created by my butterflies fluttering over the bed. We think this bedroom is beautiful!
In terms of colour, the sky is the limit! We love to colour match artwork to your preference, and we can choose from a huge selection.
Click the swallows above to go through to my online shop and create your perfect group in a range of colours! But if these aren't quite right for you, or you'd like these colours on a different piece, get in touch and we can find the perfect hue to compliment your bedroom decor. Our porcelain ceramic sculpture range can be tailored to fit your space and colour palette of your room.
Ceramic wall artwork can be a beautiful and unique addition to any bedroom. It can bring personality and style to your space while also creating a soothing and calming atmosphere. Whether you choose a single piece or a grouping of pieces, be sure to select something that speaks to you and compliments your space. The bottom line is, that there is no right and wrong! If you love it, it is the right choice.
If you have a bedroom interior project you would like us to assist with, get in touch.
Alternatively, shop our ceramic artwork here.